TOTI SCIALOJA
- Roma
Opened in 2014, the house-museum Toti Scialoja (1914-1998) and Gabriella Drudi (1922-1998) presents the opportunity to enter the intimate dimension of these artists, and to experience their important artistic productions. The museum, located on the second floor of a 17th century building in the Rione Regola of Rome, has maintained the furniture chosen by Toti and Gabriella, along with pieces designed by Scialoja himself.
In the rooms, a permanent, multimedia exhibition, made up of texts, documents, photos and works, illustrates the vast artistic production of Toti as a painter, writer, set designer and costumer, as well as of Gabriella as a writer and essayist (she was among the first to study Abstract American Expressionism).
The exhibition also contains works from their private collection, including major artistic movements from the 20th century (Afro, Colla, De Pisis, Leoncillo, Maccari, Melotti, Mirko, and Motherwell), confirming the couple's passion for visual culture.
Also of great importance are the Archive, with collections of Toti Scialoja, Gabriella Drudi and the Scialoja family, marked to be of historical interest as of the 14th August 2012, and the Sound and Audio-Visual Archive, marked to be of great interest in 2016. A remarkable Library completes the cultural corpus, which includes ten thousand volumes, two hundred magazines, rare and precious editions, as well as fine art books with original engravings.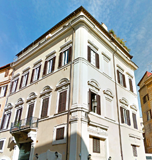 Indirizzo
Fondazione Toti Scialoja
Via Santa Maria in Monticelli, 67
00186 Roma
T +39 06 683 009 16
F +39 06 979 995 30
ORARIO:
Apertura al pubblico su appuntamento dal martedì al sabato ore 10.00-13.30 / 14.30-18.00
Sito internet
Link sito
E-mail
This email address is being protected from spambots. You need JavaScript enabled to view it.
This email address is being protected from spambots. You need JavaScript enabled to view it.